Monday, September 4th, 2023
Contrary to personal type, I did pretty much nothing all Labor Day weekend. Well, no work of any kind anyway. Didn't even work on the play I'm writing (decided to do some submissions instead).
I did see the excellent production of the excellent play "Heroes of the Fourth Turning," at Rogue Machine Theatre. It runs until October 2, and gets a "highly, highly, highly recommended" from me. A play that drops us into the deeply intellectual and passionately expressed arguments of conservative Catholic evangelicals during the Trump presidency, it's brilliantly written and unnervingly well-acted. Yes, there will be walkouts (there were two behind me); go see it and don't be one of them.
And I did things like go to the gym, cook a mean Irish lamb stew, read comic books, take my dogs for walks, pine after my girlfriend (still on a family vacation in Europe) and… watch several episodes of "Star Trek: Strange New Worlds."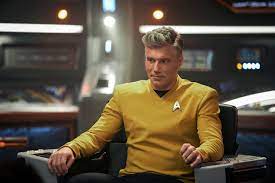 If you ever doubted the importance of William Shatner in helping to launch the Star Trek phenomenon, this current show will convince you. Say what you will about Shatner, he fills every moment with something unpredictable. The lead in the new show, Anson Mount, is no comparison. Granted, Mount is saddled with playing Captain Pike, an anodyne character without a hint of flavor or spice, so dull that he is referred to by his own crew as "The Boy Scout." But one could argue that the episodes where Mount is freed from this charmless character do even more to reveal his limitations as an actor, as in a truly childish episode where the crew is magically transformed into characters in a fairytale setting; tasked with playing a cowering quisling, Mount dives right into the cliched. In other episodes, you'll see the setup for a reaction that he never quite brings. When one can remember Captain Kirk's derring-do, his bet-it-all gambits, watching Pike shrug and smile wanly just doesn't carry the day. "Star Trek: Discovery" at least had one strong season before sliding into juvenile concerns. Nine episodes in, "Strange New Worlds" starts off dull, then gets duller. When you're reduced to doing a show that weakly rips off the movie "Alien" 44 years later but with far less suspense, isn't it past time to try something new?
If Quentin Tarantino isn't going to be allowed to rescue this franchise, can we find some other audacious brat somewhere to do it?