March 27th, 2016
This is a little bit of graffiti in my neighborhood.
Okay, it's the Warner Brothers water tower (still in my neighborhood). On Thursday night, the folks at Warners were kind enough to invite a couple hundred of us to a screening of "Batman v. Superman" on the lot. I won't say that you're looking at the best part of the movie (that would be Wonder Woman), but I will say that even with a masters in writing and almost 25 years of teaching dramatic writing, and with five decades of reading comic books starring Batman and Superman, I couldn't make any sense of whole chunks of the film.
The next day, I went to Wonder Con, the baby brother to Comic-Con, with a couple of friends. Wonder Con, which began years ago in San Francisco and has more lately been in Anaheim, was in downtown Los Angeles this year due to scheduling difficulties with the Anaheim Convention Center. I'm now going to show you the absolutely most wondrous thing I've ever seen in Los Angeles. Look closely.
YES, that is my car parked at a white-striped FREE parking spot right on Figueroa Street, immediately across from the Los Angeles Convention Center. You're going to want to save this photo. Some day, you will tell your grandchildren that you'd once seen a FREE parking spot in downtown LA and they will sneer at you. They will say, "But Gramps, all parking near the Convention Center is $20, or $30, or frequently even 45 bucks! FREE parking? You're nuts!" But there it is — absolute proof, and unlike Bigfoot photos, obviously not staged or Photoshopped. It exists! At least, it turns out, until 3 p.m., whereupon it becomes a tow-away zone unmarked by signs.  Good thing my good friend the redoubtable Dr. Trek checked for me. Whereupon I moved my car… into $20 parking. But until then, I had this, I had the FREE PARKING! Another grail quest completed!
Wonder Con, as stated, is much like Comic-Con, if Comic-Con were Galactus and Wonder Con were Ant-Man. (You'll note that unlike Comic-Con, Wonder Con doesn't even merit a hyphen. That says a lot.) Still, it's possible to catch up with old friends and have a grand time. Here I am digging in comics boxes looking for a surprisingly hard-to-find copy of From Beyond the Unknown #8, with a couple of old pals.
Even Spidey-Sense couldn't help me find that issue. The search continues.
Unlike the San Diego Convention Center (and, indeed, the City of San Diego itself), where the structure is laid out sensibly, the Los Angeles Convention Center is the product of a twisted mind whose architectural style pairs M.C. Escher with the Marquis de Sade. The Center has no center — there are actually two large buildings separated by a street and an enclosed overhead byway that gives no hint that one is crossing between buildings — and is shaped overall like clumps of organic matter with roots growing through them. You know how sometimes you'll find a section of an airport closed for renovation and you're shunted down narrow passageways serving as temporary workarounds? At the Los Angeles Convention Center, these claustrophobic corridors are permanent. Someone actually designed them this way. (And I'm not the only one to remark upon the terrible Los Angeles Convention Center. Mark Evanier has been going on about it as well.) Take this example: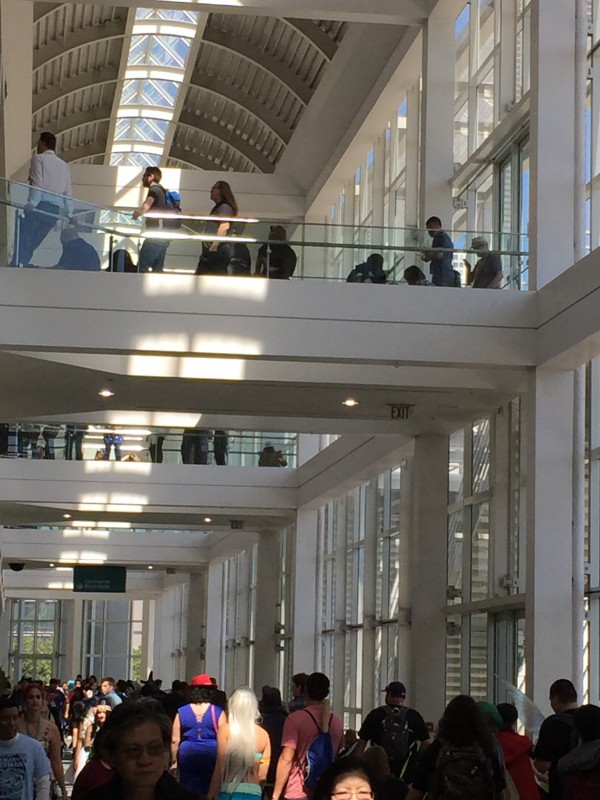 See the people up top? Perhaps you'd like to join them. Now, barring the power of flight, how could you do it. Well, if you back up 20 feet, you find this: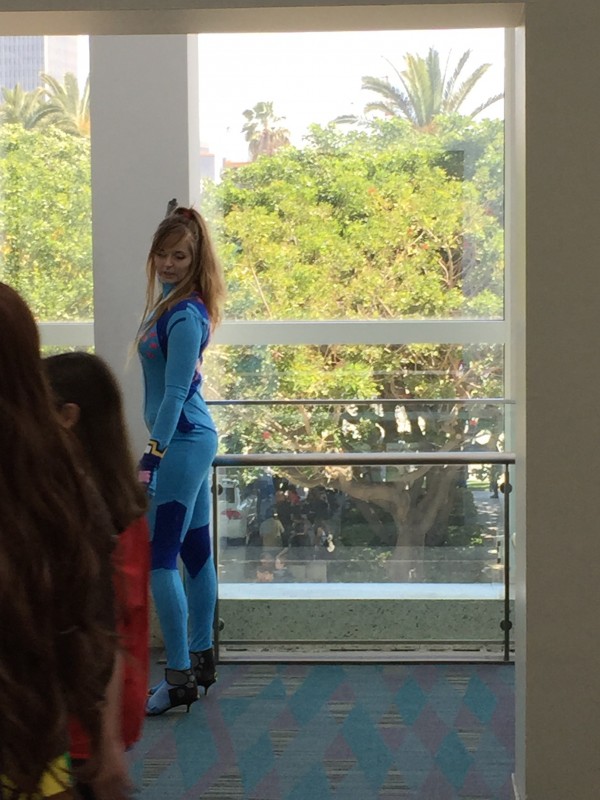 Yes, that's a lady in some sort of blue costume. It's also a stairwell. How do I know it's a stairwell? I went all the way inside to see what it was. There's no sign, there's no window, it's completely shielded, so there's no indication that it's a stairwell — in this case, with a  female Deadpool lying on the steps taking a photo of this lady's rear end for some reason — but trust me, it's a stairwell. But then, one shouldn't be surprised that it's unmarked:  Most of the interior of the convention center is unmarked. Including access points to the parking garage. It took my friend Larry and me 45 minutes to find my car inside the convention center parking structure on Saturday night, and that was after consulting with a convention center supervisor and a helpful guard who walked us out and still couldn't find access. (After walking about an hour on our own, Larry and I found it. By luck.)
Even with  the frustrations of parking and navigation, as well as scheduling that left me traversing one end of the convention center back to the other repeatedly over two days during which I burned 550 calories each day just by walking (thanks, iPhone tracker), Wonder Con was great fun. Two added great finds from the Con.
1. I finally got my dream job, and a sense of the benefits.
2. I finally, actually, really got to see someone dragging toilet paper on his shoe. I guess it isn't just a classic movie joke.