Last August, I was unexpectedly invited to a private friends-and-family music festival Robert Wheeler and his wife Linda decided to throw on their farm by the river back in the outskirts of Milan, Ohio. I had met Robert, the synthesizer and theremin player for the world's greatest band (that would be Pere Ubu) online a year or two earlier, and he knew I'd gone to their shows here in LA for decades, and then down to San Diego to see them on their most recent tour, and then went last spring to London expressly to see the only play date on their tour to feature all nine members who appeared on the most recent album. So for the third time in a year, I got on a plane to see the band — because who wouldn't want to go see the world's best band in a private concert on a farm long held by the family of Thomas Edison's sister? I wouldn't have missed that for anything.  I wrote about that trip, and that incredible homespun music festival here.
Last Saturday, a smaller, and very LA version of something similar played out here and I got to go again. And again, it was thanks to the internet.
Just before Christmas last year, I was reading the reviews of holiday albums posted by Rolling Stone online. Every year, I like to buy a new holiday album just to bring some new spark to the Christmas festivities. I had already bought The Monkees' Christmas album, hoping for a repeat of their true final album, the sensational Good Times!, but was disappointed to learn that essentially it was two solo albums (Micky and Mike) sutured together with one abominable performance by the ailing and soon to be deceased Peter Tork. While it had its bright spots, it so hit-and-miss that I couldn't imagine playing it when friends came over. So I was looking for another.
The artwork for this one stood out, as did its title:  "The Kringle Tingle."  Here's the review, courtesy of Rolling Stone:
I look them up and see the words "country soul" and "swamp funk."  A strong start with covers of "Linus & Lucy" and "Santa's Got A Brand New Bag" and I love the sound of the horns.  It really kicks in with the original "Christmas Time In Bossier City" which feels like a song every radio DJ should be adding to their holiday broadcasts, it's like the ghosts of vintage Springsteen and Van Morrison conspired to create a melancholy new holiday classic with some meat on the bone.  "Don't Go Chasing Santa Claus" is a straight-up TLC spoof, believe it or not, and is the more festive option for that holiday party playlist.  "Santa Comes To Atlanta" is another original that is goddamn lovely.  Fuck it, I start skipping ahead a little, not because I am bored but because I am confident this is a solid record.  Good covers throughout, nothing too obvious, and even better originals.
So I sample it online, can't believe how great this sounds — how incredibly fun and energetic and soulful and just filled with the joy of being alive, so I buy it. And then, from Christmas straight into January, I listen to it over and over and over and over and over again, knowing nothing about "Shinyribs" (is that a person? and band?) but loving every instant of it and wondering how the hell it wound up at NUMBER 50 on the list of 50 new Christmas Albums in a review that damned it with faint praise. If it shouldn't have been number one, it still merited a ranking higher than FIFTY.
Come March, I'm on my way to another godforsaken dental appointment, wondering how terrible this one will be, and I'm listening to music on shuffle in my car, and damn if a track from this album did come up. Magically, I suddenly felt better. Sure, at some point I might have whole suspension bridges erected inside my mouth, but there will always be Shinyribs music, and it will always perk me up. Feeling extremely moved by music — as it is the job of music to do — I look up the Shinyribs website to see where and when they or he is going to play and see that it's usually Texas (that's where Shinyribs is from), and consider a trip to Texas, and wonder how I can wrap it up in some business work to write off the trip, but then I realize this is unrealistic for now given my schedule, but I do see evidence of a West Coast tour! I look at the dates… but somehow, inconceivably, there are no Los Angeles dates. Not a one. A little chastened, I find Shinyribs on Twitter, post a heartfelt tweet about how great the music is and how sad I am to see no play date in LA, but optimistically offer that at some point I look forward to coming down to Texas to see the show. Shortly thereafter, I get this unexpected private message: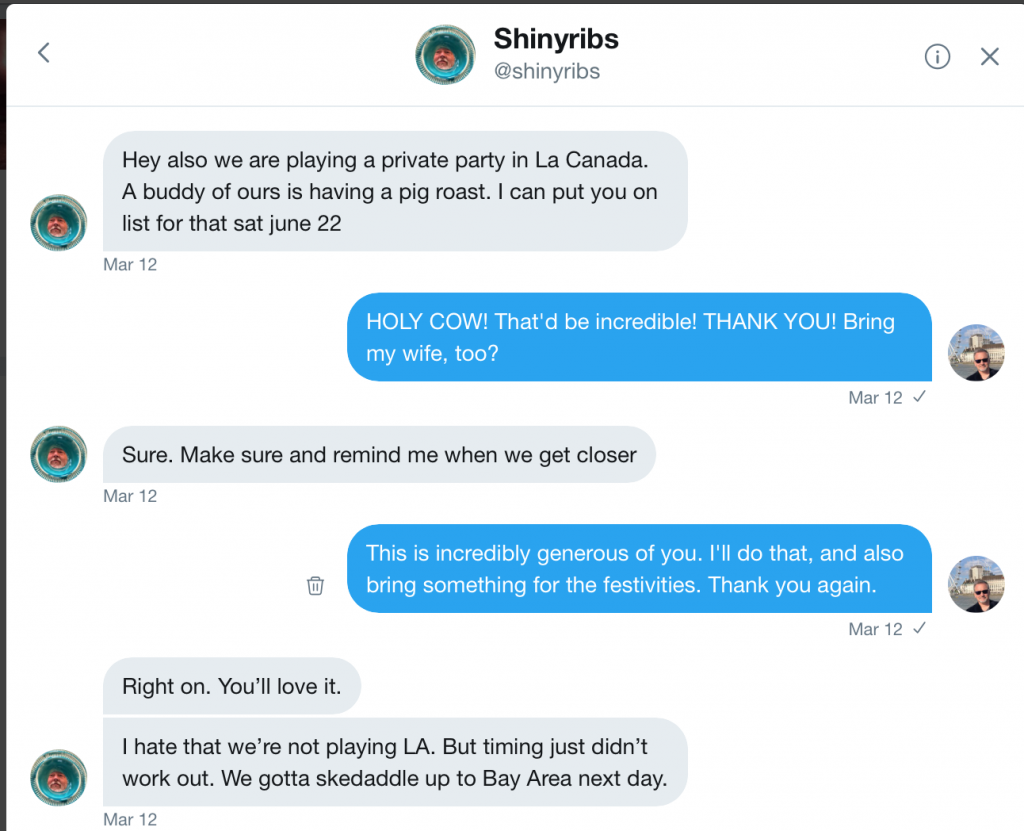 I couldn't believe my good fortune! The kindness and generosity of these musicians and, in 2019, their lack of paranoia about my possibly being a nut job, still floors me. My business partner says that when you put something out into the universe, it comes back to you — so, yes, they are responding to my love for their music. But still:  They're taking a risk on me.
As the date drew closer, and I exchanged a few more messages with Kevin Russell, the lead singer and guitarist of Shinyribs (yes, it's a band), and after I'd watched all of their videos online and bought more of their music, this was sent to me:
And that's how my wife and I happened to be at a private backyard concert last Saturday, hoo-dooing with Shinyribs and about 50 strangers. Everyone we met was nice, the food and drink and hospitality of the host were incomparable, as promised we brought a nice gift for said host, and we had an absolutely awesome time. My wife said of the band, "They're in the business of joy."
The video snippet above unfortunately doesn't include Kevin's soulful, energetic, singing. But it does give you a taste of the band, which is in my mind somehow related to the band Little Feat, with similar energy but more heat. If this is how good they sound at a backyard function, imagine how great they were on Austin City Limits. (Or:  go watch to it.)
Two nights ago, my wife and I went to see Eddie Izzard at the Dolby Theatre in Hollywood. Throughout the show, Izzard says you'd better make your life an adventure. I do my best to enjoy every day, and to help other people enjoy theirs if I can. But I will always remain dumbstruck by the sheer luck I've had throughout my life in meeting tremendously talented people who are also generous enough to invite me to things like this.