Let me first just share the jubilation: Returning to the theatre — to the live performance of plays with actors physically present — is a cause for celebration. More than maybe any other factor, it's the reason for my elevated mood this past month.
Here's what I've seen, ranked from worst (sorry) to best. All opinions expressed are mine, and subjective, but utterly reliable — trust me.
5. "The Forest" by Florian Zeller, Hampstead Theatre, London, seen 2/11/22
While in the U.K. four weeks ago, I had only one night in London, and thus only one night to see a show, and this was what I chose. This is the world-premiere production of a new play by the acclaimed author of "The Father" (which became a theatrical sensation, and then the movie starring Anthony Hopkins), and I was able to score the last ticket for the only night I could attend. Unfortunately, in this case, the playwright can't see The Forest for the trees because he can't seem to make any decisions about how to dress up what is a humdrum storyline, whereby — get this — a man is cheating on his wife. And must suffer the consequences. Shocking, I know. (Especially from a French writer.) Rather than make decisions and increase tension, the writer dilly-dallies with strange stagecraft that does absolutely nothing to elevate the proceedings. Unfortunately, a storied cast (including Toby Stephens and Paul McGann (much-loved by me from "Withnail and I" (!!!) and, okay, "Doctor Who") is wasted in the process. Full disclosure: The critics disagreed with me about this, but this is yet another case where they're wrong. Any play in which our hero of sorts prostrates himself and weeps and cries throughout is not worth seeing. (And, no, that isn't what Hamlet does.)
4. "Slave Play" by Jeremy O. Harris, Mark Taper Forum, Los Angeles, seen 2/13/22
The opening vignettes, portraying interracial sexual shenanigans during the antebellum South for comedic effect, certainly make their point, tangling up repressed lust with forthright racism. The ending of the play, in which a white husband finally is forced to listen to his black wife, certainly lands, so much so that I wish the entire play had built to that. Unfortunately, the dead center of the play revolves around an endless therapy session in which two hyperactive interlocutors harass and cajole three interracial couples about their relationships and their sex lives, which went on… and on… and on… to no greater effect. The (black) woman in front of me started reading her email. Twice. And I started reading it along with her, over her shoulder When the play was over, I texted another playwright, who'd hated it and was curious what I'd thought; for the most part, I told him, I wanted my 90 minutes back. He corrected me, "It was two hours long." Which clarified something: Yes, I did fall asleep in the middle.
3. "What I learned in Paris," by Pearl Cleage, South Coast Rep, Costa Mesa, seen 2/26/22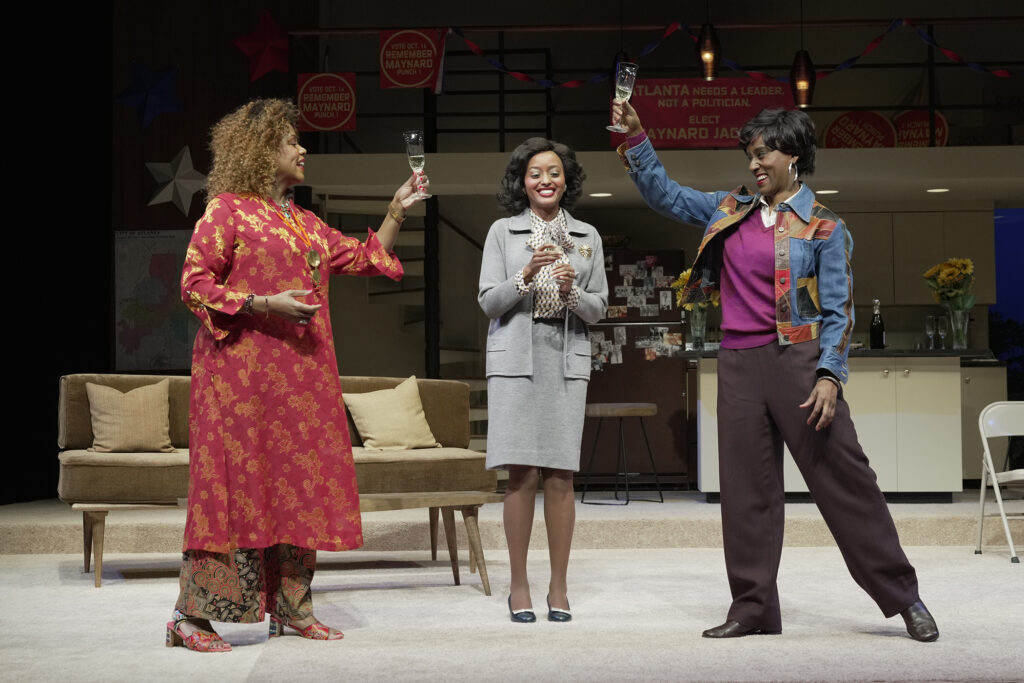 I wanted to see this for three reasons: I'd never seen a Pearl Cleage play, although I'd heard of her; South Coast Rep does strong work; and I was interested in a play about the election of the first black mayor of a major American city (in this case, Atlanta, in 1971). Unfortunately, the play didn't much deal with the latter, and instead was mostly concerned with a couple that shouldn't get married and a returning ex-wife who was clearly destined to be awkwardly reunited with her ex-husband for strictly convenient plot reasons. My guest remarked at the Act One curtain that she was curious to see what would happen; unfortunately for me, I wasn't because I'd foreseen it five minutes in. That said, some of the cast was delightful, and I got a few chuckles here and there.
2. "The Power of Sail," by Paul Grellong, Geffen Playhouse, Los Angeles, seen 3/8/22
I didn't believe one bit of this play, about a liberal history professor who effectively makes a deal with a neo-Nazi but comes to regret it, but I enjoyed every moment of it. I didn't believe that the university dean was an actual dean (primarily because she didn't behave like one; I've served under deans); I didn't believe the sequence of events that led to a "shocking" death; I didn't believe that every character had a secret Machiavellian plot he or she was carrying out; and I didn't believe there was any reason at all for the final scene, which adds a new location and new character. I also think that "filling in" events in the second half of the play in retrospective action just reveals how poorly constructed it is. Still, the evening provided an opportunity to see Bryan Cranston shine on stage (albeit in a role that stretched him in no way) and also Amy Brenneman (ditto), and one character's reveal was, yes, absolutely chilling for what it portends for us. The storyline is easily dispelled, as I told two women I didn't know while we were walking back to our cars: "Don't break bread with Nazis." (Good advice for all occasions.) Mostly, I think I just enjoyed taking myself to the theatre by myself and seeing a well-directed, well-acted, topical play, and in a playhouse where the melodious voice of God message booming from the rafters concluded with "Welcome home," thereby eliciting a round of applause from all of us happy to be back in the theatre.
"The Lehman Trilogy," by Stefano Massini, Ahmanson Theatre, Los Angeles, seen 3/5/22
What a delight to say that this is an absolute marvel, brilliantly written, directed and acted, an event that communicates the capitalist history of the United States for all its promise and all its peril. THIS is the show not to be missed (it runs till April 10). Here's the trailer from the London production (which is in LA with mostly the same cast). "An epic production" to be sure.
Whether you see any of these, in these productions or others, or none of these and perhaps something else — we can all celebrate the reopening of our theatres. Go see something.
I'm now scouting out other shows.