As threatened, I did attend Congressman Adam Schiff's town hall on health care last night in Alhambra. The print media pegged attendance at "hundreds," but they left early so they could meet their print deadlines, and therefore missed counting all the people who continued to stream to the event. Absolutely there were a thousand people, and perhaps two thousand.
Especially after watching video clips from other town halls, I have to credit whoever organized Schiff's event, because clearly somebody has been learning from past mistakes. Whereas Arlen Specter and Claire McCaskill's events look very much like cases of David getting thrown to the lions — one lone senator trying to survive in an arena of bloodlust — the Schiff event was a master class in control. Someone earned his or her pay by designating a moderator — a practicing physician who is also the health correspondent for our local NBC affiliate — and by populating the dais with the proverbial "panel of experts," including a representative of Kaiser Permanente, a citizens' watchdog, another actively engaged activist and, sitting off to the side, the Congressman himself, doing his best to defer to others. So while Specter and McCaskill were primary targets, Schiff was shielded by three other people and a semi-celebrity moderator. That's pretty smart. Somebody owes that moderator in particular a round of drinks, because no matter what he did half the crowd was prepared to boo him.
My reading of the crowd:  60% in favor of health-care reform, even if unsure exactly what shape it should take. Thirty percent opposed to any health-care reform, no matter what shape it would take. And a minimum 20% absolutely bat-shit crazy. (And yes, clearly there's some overlap in these groups.) One question directed to Schiff:  Would he support health-care reform even if his constituents are opposed? To which he replied smartly, "The vast majority of my constituents want it." Which looked to be true from this crowd, and looks to be true from polling.
There were so many wonderfully enchanting signs and scenes at this event that it's hard to know where to end. But here are just some of the most colorful images.
The sign on the left wins my personal award for most whack-a-doodle. You'll note that Obama has been caracturized as The Joker, and then captioned as being part of a "Marxist jihad" and then labeled an "ineligible usurper." While we're at it, I suspect he tears the tags off mattresses, spits on sidewalks, and is in a gay marriage with the Tooth Fairy. Where to begin? Although it should go without saying, I can't help but say it:  The Joker is an anarchist opposed to all systems; Marxism is at its heart collectivist; a jihad is a militant religious action; and Obama was duly elected to lead a representative system. So the sign really runs the board of diametrically opposed belief systems and blames him somehow for all of them. And why? Because he wants to expand health care. To me, this seems like hyperbole. But hey, I deal with meaning for a living, so what do I know?
The sign on the right (held by the same man!) actually makes a fair point:  that the Constitution does not address health care, and therefore the government has no role to play. This is the strict construction / originalist argument. Some of us would note that the Constitution makes no provision for paving roads, either, and the government seems to be doing that to the objection of no one, but nevertheless there is the glimmer of a true argument to be made here. But I think if you're carrying the other sign in your left hand, you not only aren't entitled to make the argument on the other sign, you probably aren't capable.
The sign in the rear center reads, "No Marxism." I agree. And I don't think Karl Marx would have cut a deal with the pharmaceutical companies, which is something Obama has done, so I think we're safe. Wish granted! By the way, one of the people in the middle distance is an off-duty fireman wearing a fire department t-shirt and a scowl. To almost every comment from everyone on the dais, he yelled out, "It's socialism!" I couldn't get to him in the crowd, or I would have asked him what this meant. If he meant that it's socialism because the government would be paying for the service, I would have asked him how often the fire department sends out bills to individual taxpayers for putting out a fire. Because if they don't — isn't that socialism? The same with those pesky police who are always showing up and stopping crime without issuing an invoice. It's socialism! It's like we're all forced to pay for this crime prevention thing!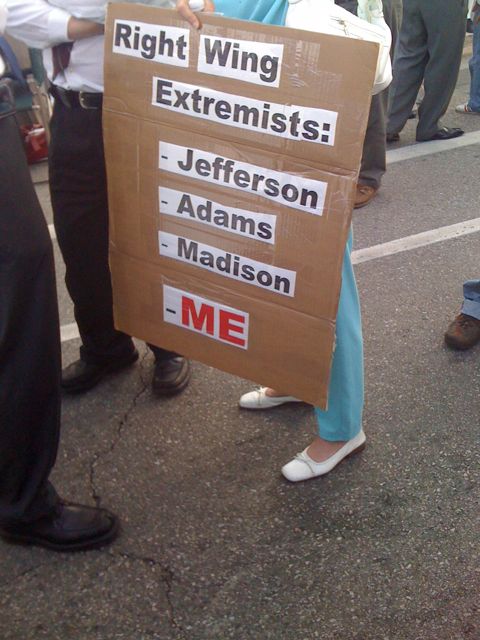 This woman's sign was simultaneously educational and completely baffling to me. I had not known that Jefferson, Adams, and Madison were right-wing extremists. But for the sign, nor would I have known that this woman herself was also a right-wing extremist. I applaud her courage for outing herself. It reminds me of how the Manson family entered the courtroom back in their day:  with chin held high. But what was her point? This was a town hall on health care. I don't recall Jefferson, Adams, or Madison ever being concerned with the issue of health care, except when they were desperately hoping that the ailing Caesar Rodney would show up to cast a vote for independence. So I asked her, "What does your sign mean?" She said, "Did you go to school?" I told her that indeed I had gone to school — many of them! — and had come away with multiple degrees. She shook her head and walked off. So the meaning of her sign remains a mystery. Any ideas, anyone? Because I really think she thinks she making some point that, well, she isn't. Oh, and I also told her I was rather well-versed in the Founding Fathers if she'd like to discuss them, but she really wasn't interested in that. She just wants to be associated with them, the way many people do with, say, Jesus:  without showing any of that Jesus-like wisdom and tolerance.
Finally, we have this. This is the cover to a booklet disseminated at the event by those ardent Democrats, the disciples of Lyndon LaRouche. If you can't explain how Jefferson, Adams, and Madison were right-wing extremists who are somehow opposed to health care, perhaps you can help me understand two things:  1) how Obama time-traveled back to the 1930's to cook up evil with Hitler; and 2) precisely how 86-year-old Lyndon Hermyle LaRouche has become an object of worship among a certain segment of deranged 18-to-24-year-old unwashed political cultist. Taking  these issues separately, as repulsive as Obama may find this image, I think it would equally dismay Hitler to find himself associating with a man from the future who is the product of race-mingling, someone who so clearly refutes every notion ever held dear by der Fuhrer. All that invading and killing and genocide, all for naught. In fact, I hope that in whatever white-hot corner of Hell Hitler is currently residing, part of his perpetual ordeal is having to stare at precisely this image, replete with fetching young Aryan women openly adoring the half-African man. Man, that is delicious irony. Re my second question — how the cult of LaRouche is able to attract disaffected aimless young people — my best theory is this:  I guess the Hare Krishnas need better marketing these days.
There were many more fun and misleading signs and brochures from people trying to disrupt and distract. But there is one that I wish I'd gotten a picture of, and it's from the opposite point of view. It's just as simplistic and illogical as the others, but it made me laugh and it didn't malign a duly elected native-born American leader who is being figuratively tarred and feathered because he wants to help 50 million of his fellow citizens get access to health care before the entire U.S. economy is bankrupted by skyrocketing medical expenses.  It was held by a passionate woman in her 30's, and here's what it said:  "We won. So suck it." Hey — a sign that speaks for me.