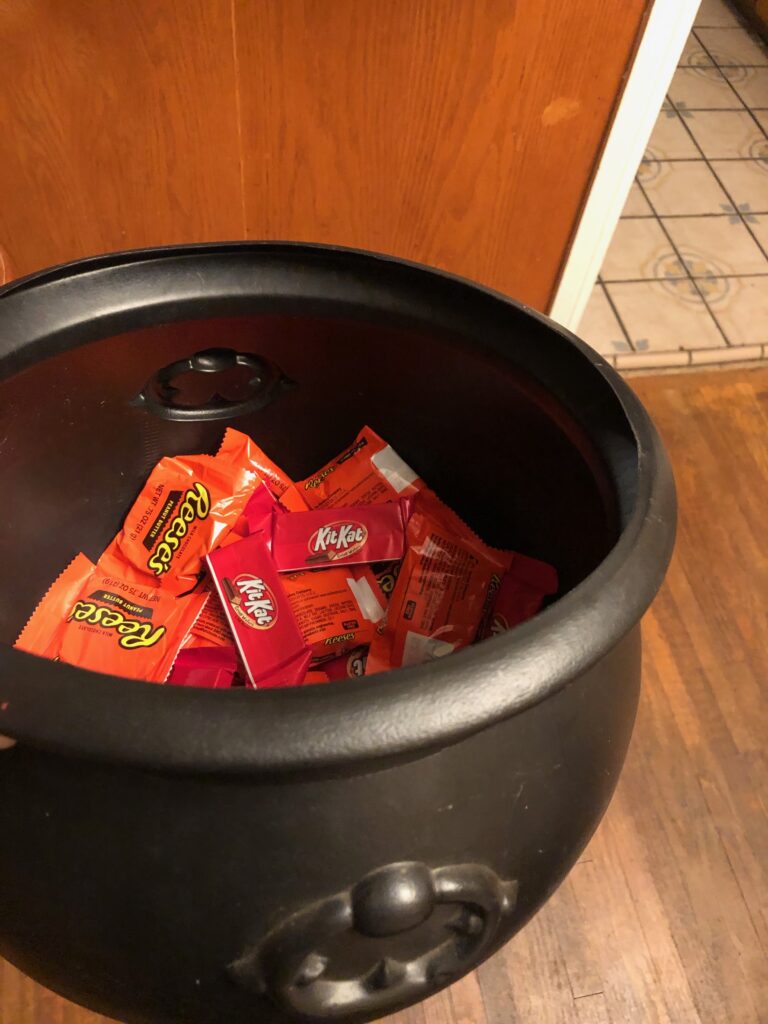 Halloween used to be a big deal around my neighborhood. Not any more.
Last year we had zero trick-or-treaters.
This year we had four.
And that's because, twice, I ran out the door and chased after kids who were going to skip my house.
I wish I were kidding.
Why were the parents of the first two kids fast-walking past before I lunged out the front door to accost them with my cauldron of candy bars? Might have been the (okay, somewhat abrasive) music I was playing. (15-60-75, aka The Numbers Band.) Or maybe it was my vociferous mutts. Either way, the parents seemed genuinely relieved when I appeared reasonably friendly and reassuring to little Batman and little I-have-no-idea.
At ten after nine p.m., I figured, well, that's that, at least I had two. So I got my dogs into their harnesses for their long-delayed walk. Of course, as soon as I got out the front door with my aggravating yapping critters, a gaggle of adults with two kids in tow who'd been poised to turn up my walkway started to run the other way. "Wait, wait!" I yelled after them, throwing the dogs back inside, grabbing the candy, and charging down the cement toward them. The kids took the candy, and I considered dispatching handfuls of it to the six adults, too, when suddenly I realized: I'm kind of insane with this.
Maybe I hoped there would be more kids because I thought more kids would equal less pandemic. Because, yes, I know there's a pandemic going on. Still.
So now I've got a couple dozen pieces of chocolate candy bars left. I took the dogs for a walk, fed them — they chowed it down savagely like hyenas on a carcass — then ate my own belated dinner, then while watching Succession on HBO, I opened one of the candy bars, a miniature Reese's Peanut Butter Cup, and ate it. The Hershey Company long ago having swapped out much of the chocolate for things like flavored oil, it didn't even taste like chocolate.
Succession was pretty good, though.