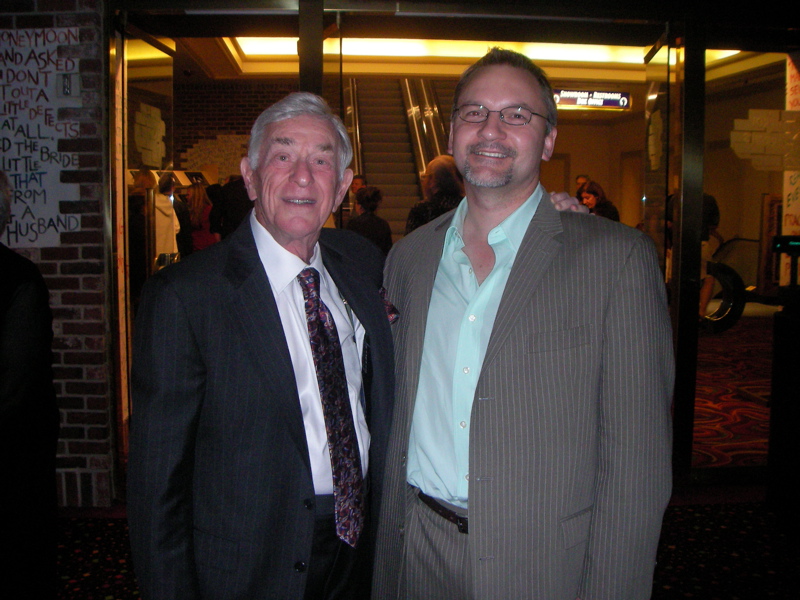 Last week while I was in Las Vegas, I caught the act of revered colleague Shelley Berman. In fact, in retrospect I wonder if I didn't go to Las Vegas precisely so that I could see the act of the revered Berman.
I grew up seeing Shelley do his act on The Mike Douglas Show and The Merv Griffin Show and the like and even then thought there was something special about him. In an age that spanned far-out groovy comics, new absurdists (Steve Martin, Emo Phillips, Steven Wright), and human jumping beans frantically yanking props out of boxes (Gallagher, are you out there?), Shelley's act was practically zenlike in its comparative stillness. His humor moved at the speed of erosion, and with similar particulate precision.
Although every year for almost 20 years I've seen him do some variation of his act in his capacity as a lecturer the Master of Professional Writing program at USC — even when his act that day revolved around mocking the miniscule salad at a faculty luncheon — I'd never seen him do stand-up in a club. So the opportunity to see him at Harrah's, where he headlined the Improv, wasn't one to miss.
And I'm glad I didn't miss it. As a generous courtesy, Shelley had me seated next to his wife of 60 years, Sarah. Especially from that ringside perspective, my admiration for his comic facility grew. It's pointless to try to recapture his lines here, especially without his delivery, but few people know how to work a room like that, improv off people in the front rows, weave in old bits seamlessly, or maintain a meticulously calculated pace, let alone do it so well at age 81. It felt wonderful to laugh that deeply.
His career revival is in full flourish. He's recurring on "Curb Your Enthusiasm" and "Boston Legal," he plays Adam Sandler's father in that comic's forthcoming new film, and he was recently given a lifetime achievement award at the Boston Comedy Festival. With all that, though, at the close of his act he said he always returns to live performance because of the bounce he gets from an audience. "This is what I live for," he said.
Here's Shelley's website. You should check in once in a while and see if he's performing live somewhere near you. Then you should go.